CARTHAGE — It's a day students and educators alike look forward to — the day the Exceptional Games are held at Carthage Central School.
In 2009, after Special Olympics were no longer held in the area, then Carthage Central High School 12 Honors educator Sean P. McHale, along with special education instructor Jean St. Croix, founded the Exceptional Games in the high school gymnasium with only two schools.
Now, the event is an annual project of the school's 12 Honors class through which seniors provide community service.
"The Exceptional Games is a day where special education students in the area — who are excluded from events that general education students participate in — get to have their own field-day type of event," said Grace Thornthwaite, lead organizer. "This year a main focus has been inclusion. Our team has worked hard to try and bolster an environment where special ed and gen ed students get to work together and actually develop real relationships with each other."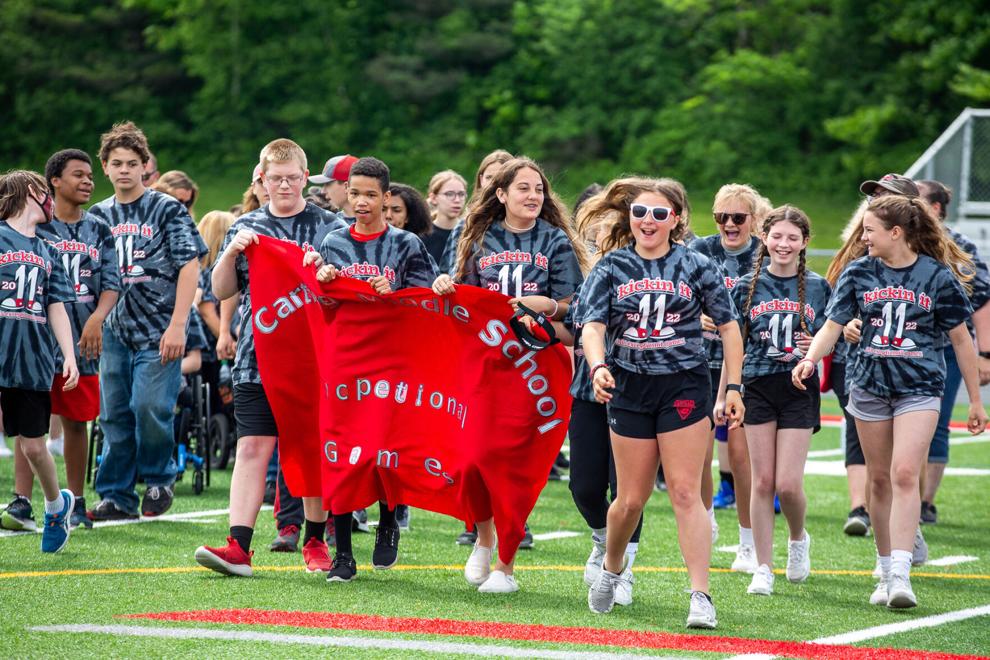 The Carthage JROTC color guard Natalie Collier, Will McIntosh, Derrick Jiang and Joshua Curtis, presented the colors on Comet Field and Trinity Marler and Paige Soules sang the national anthem accompanied by the school's marching band.
Following opening remarks by Ms. Thornthwaite, each team was called to center field for its introduction and round of applause.
Then the fun and games began.
Rotating between stations about every 15 minutes, the students tried their hands at T-ball, bowling, running and golf. They ran an obstacle course, had a beach ball toss and did a spoon race — and more than anything, they had fun.
"They love it — they love being outside, the music, getting out and doing something different," said Brain J. Carvel, South Lewis High School special education teacher.
"It gives me hope of being happy," said Dameion X. Terry, 17, a South Lewis student.
"It's a great day for independent play," Lynette M. Piche, Beaver River resource room teacher, said as she watched students try to sink a putt into a plastic cup.
Nathan L. Planck, 11, a fifth grade student, ran up to Mrs. Piche full of excitement, announcing he hit a hole in one.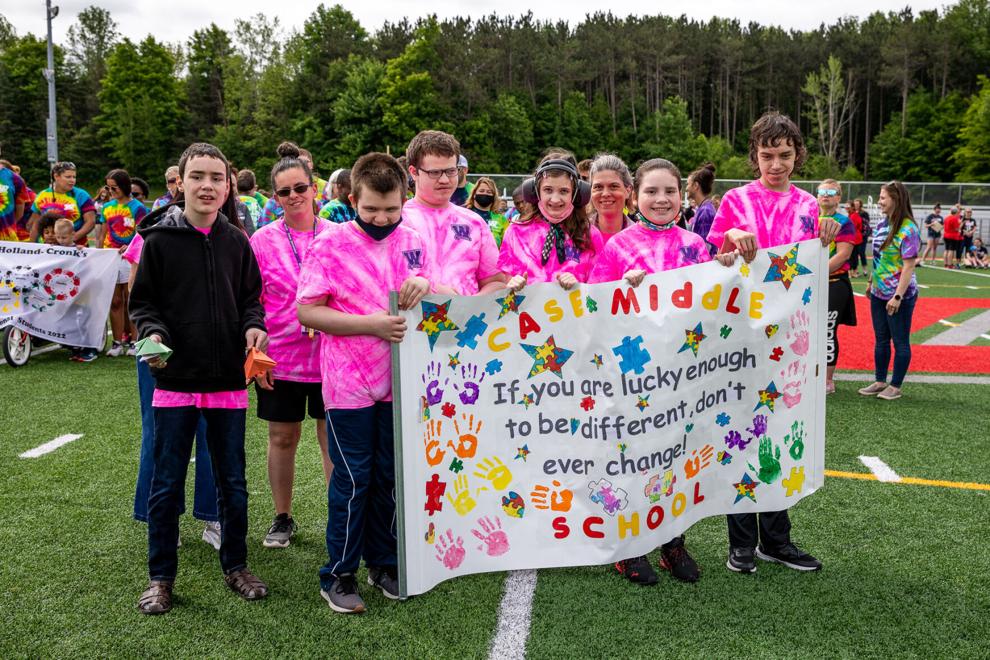 Watertown's Case Middle School students wore T-shirts with the Taylor Swift quote, "If you are lucky enough to be different, don't ever change."
"It's always a lot of fun," said Meighan L. Mustizer, Watertown special education teacher. "It gives them the opportunity to participate on their own level."
Zaydin Thomas, a first grader at Starbuck Elementary, sifting through a box filled with rice and beans, said his favorite activity was "playing in the sand and running" as he demonstrated and ran off to the next station.
"This is the best day ever, they look forward to it every year," said Emily L. Worden, a special education teacher at South Jefferson. "It's great to be together in the community and laughing."
Matthew T. Amell, 18, a South Jefferson junior who is nonverbal, used an iPad to spell out his response to what he thought of the event — "awesome."
His mother described the technology as "a blessing" and "life-changing."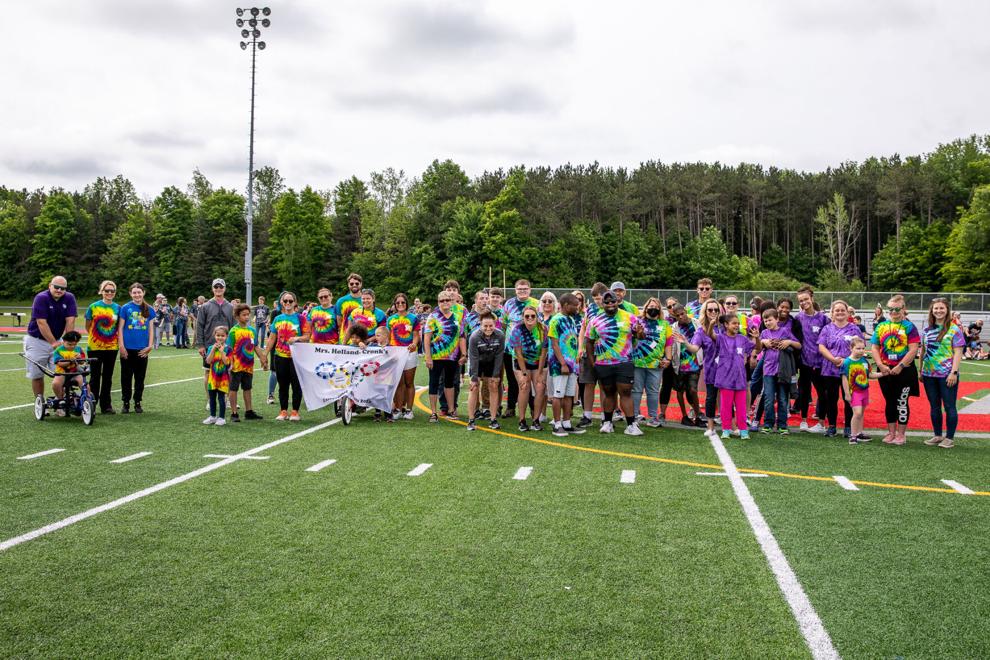 "We come every year to see how he does. It's great to support my younger brother," said Andrew B. Amell, Matthew's brother. Of the device, he said, "It's great to see what is going on in his head."
Using a rapid prompting method board, Trent R. Williams, 20, a South Jefferson nonverbal student wrote out, "I love this."
Mariah G. Strife, a Black River Elementary special education teacher, pointed out that students train for this event.
"We practice skills all year — social skills, interaction, and come here to show off those skills," she said.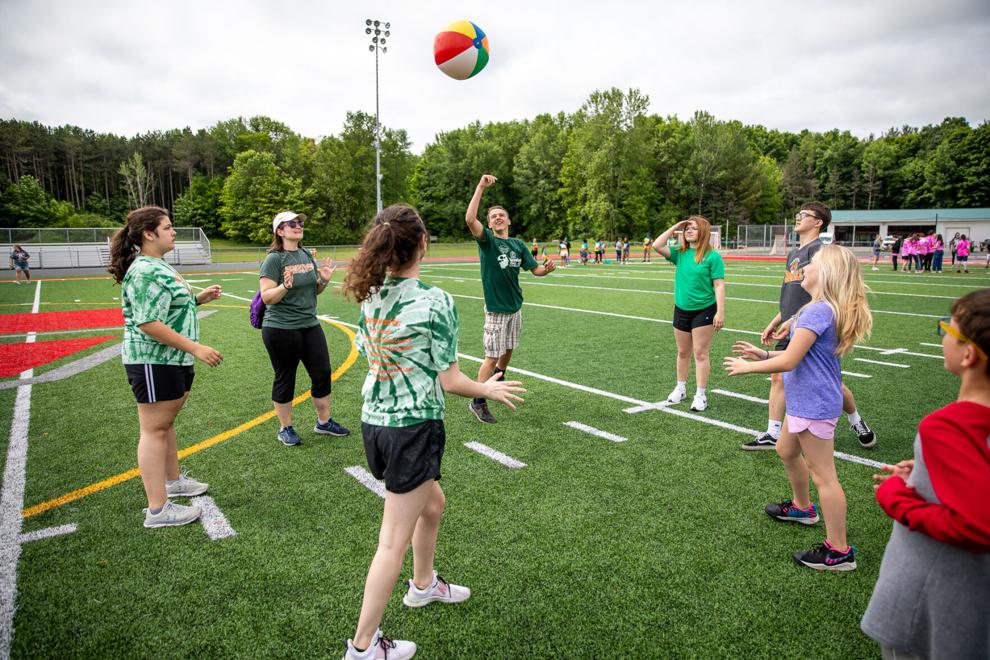 The Black River students sported shirts that said "Team Au-some."
Jodie R. McIntyre, an Indian River special education teacher, said the students also practice patience and taking turns and utilize their gross motor skills.
"It's great to be out and interacting with other kids," said Kelly J. Turck, a Lowville special education teacher. "Especially after not having it for two years, it's great to be back. I think the teachers love it as much as the kids."
Many parents and other family members came out to cheer on their athletes.
"He loves it," Jill P. Lee said of her son Owen, 18, a South Lewis student.
She recalled that one year Owen ran the track and pumped up the crowd to make them cheer.
"It makes my heart happy to be here," she said, noting that she was impressed with the event's organizers.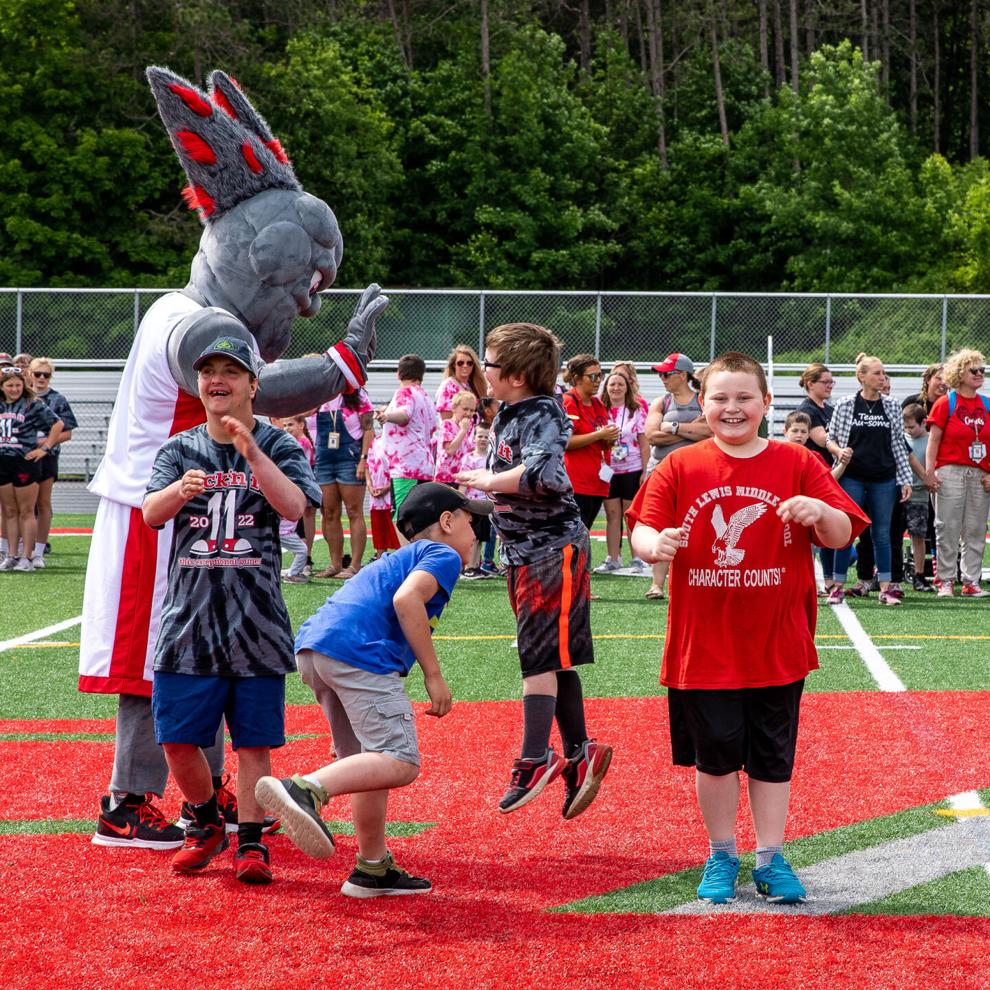 The event involves not only the main planning group — Ms. Thornthwaite, Anna Scott, Whitney LaFave, Kelsey Perez and Sanaa Gordon with the help of 12 Honors instructor Todd Burker and other 12 Honors members — but several volunteers.
Ella M. Hensley, a Carthage junior, volunteered because her younger sister has participated in the games in the past.
"She's been super excited," Ella said. "Inclusion is everything."
Ella noted many alumni come back to school to help with the event, and she plans to do so in the future.
"It's amazing," said Kory A. Kilbride, a Carthage junior whose younger brother is a participant. "It's one day to be with everyone and play games. It was hard not having it the past couple years."
Two of the alumni volunteering this year were Kerri A. McHale and Megan A. Beyor, who co-chaired the event their senior year in 2018.
"I'm excited to be back," Ms. McHale said. "They did a great job."
Ms. Beyor agreed the organizers did a great job.
"They did a good job bringing it back after COVID," she said. "They gave it more structure and are building it up in a positive way."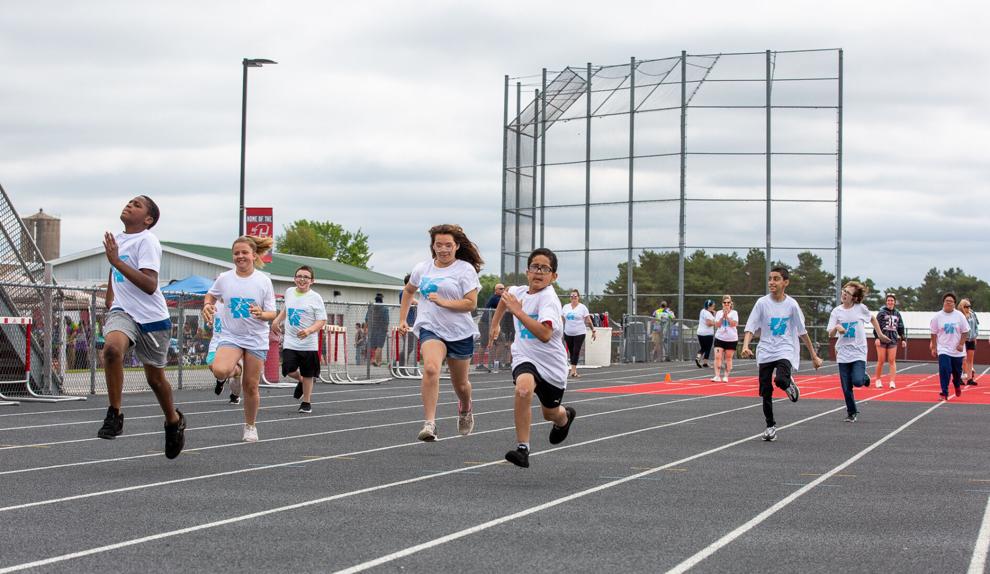 Before boarding buses to go back to their schools, the teams were presented with banners that they had helped decorate and medals for their achievements.
Students from the South Jefferson, Carthage, Thousand Islands, Watertown, South Lewis, Beaver River, Lowville and Indian River school districts participated.