SUMMERVILLE — On a sun-soaked day in April, the students in Robin Heard's special education class at Sand Hill Elementary School were outside taking care of their garden.
Their classroom overlooks the "Sandpiper Seedlings" beds where the students — mostly fourth and fifth graders — gestured to the different vegetables, listing their favorites. Popular choices included tomatoes, potatoes and carrots.
"I like carrots, and horses love carrots," said fifth grader Claire Lawrence, who Heard said is a budding equestrian.
Fourth grader Jayden Phillips pointed at small red pepper flakes he and his classmates had placed throughout the beds. 
"It keeps the animals away," he said.
Inside the classroom, lettuce, basil and peas grow in a vertical hydroponic garden specially designed to cultivate plants indoors.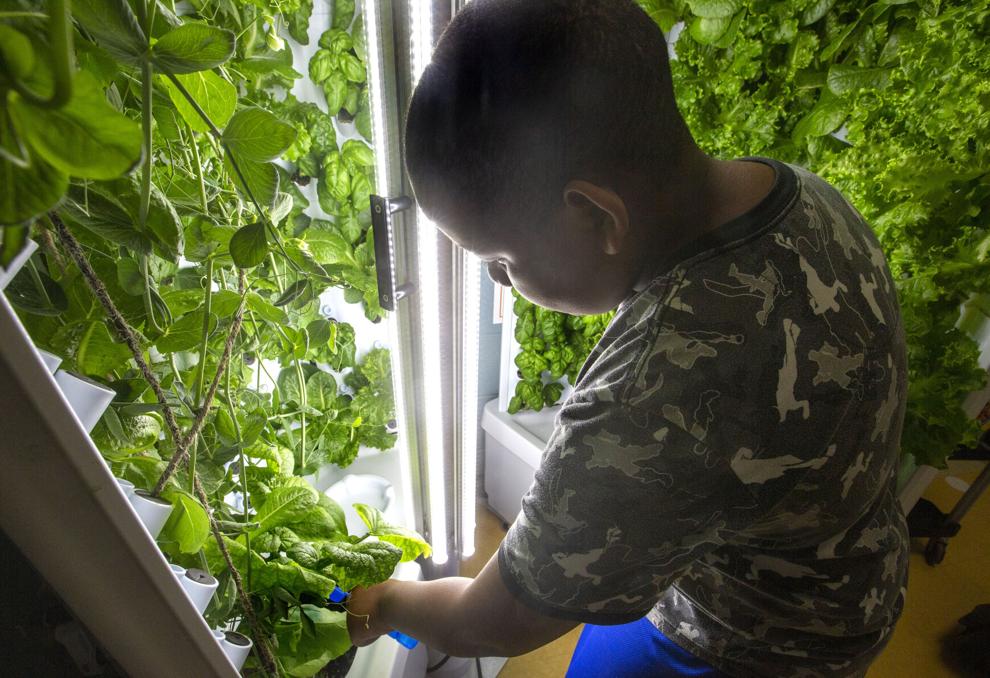 An identical one sits in a classroom at Ashley Ridge High School, about a 10-minute drive away, where Kristina White's special education class recently provided their school-grown lettuce, onions, peppers and basil for a salad bar at a teachers function.
White said her students ask to check on their garden every day after lunch.
"They love it," White said. "It is their pride and joy."
Both classes are part of a program that began in the spring semester, thanks to a grant from Summerville's Bosch Community Fund. The $25,000 grant paid for the equipment, seeds and educational packets for special education classrooms at five schools throughout Dorchester School District 2.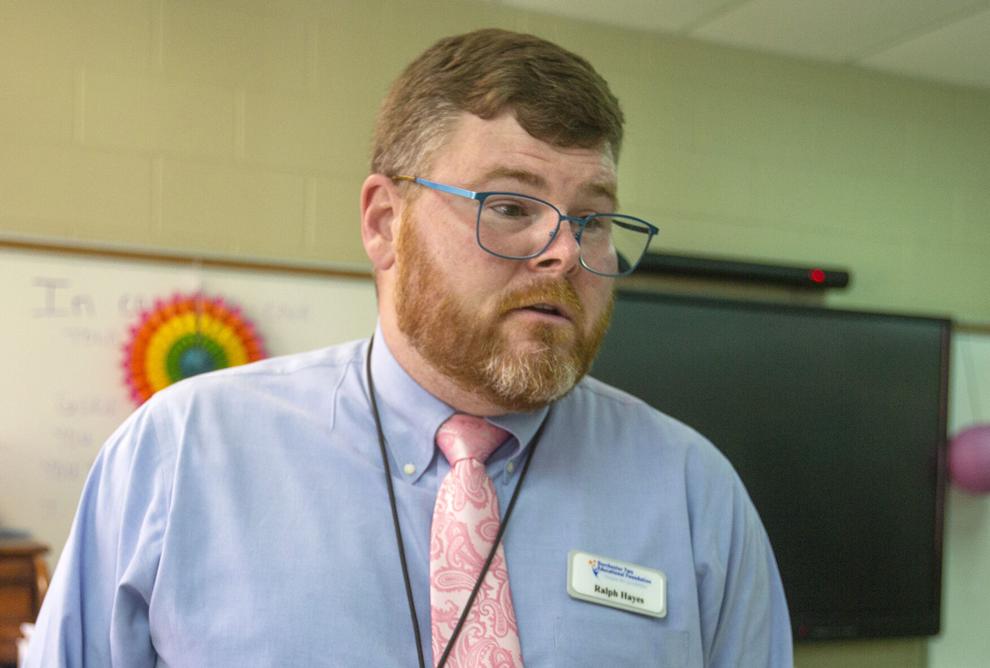 Ralph Hayes is executive director of Dorchester Two Educational Foundation, a nonprofit that helps raise money for extra programs at the district's 25 schools. In securing the grant from Bosch, he said he specifically wanted the funds to impact special education students, who learn more easily through hands-on interaction than from traditional classroom lecturing. 
That learning style, Hayes said, goes particularly well with STEM (Science, Technology, Engineering, Math) subjects. 
"Oftentimes (special education programs) miss the opportunity to get those STEM resources because when a school gets money for STEM resources … it's normally gobbled up by highfliers or kids in other classes," Hayes said. "But (the garden is) trial and error, it's life skills, it's collaboration. And because it grows so fast, it really keeps their attention captured."
Growing gardeners
The Educational Foundation purchased the hydroponic gardens from Wisconsin-based company Fork Farms, which provided seeds and equipment for up to 18 months and offers assistance to teachers implementing the gardens into their lessons. The students were involved from the very beginning, planting the seeds themselves; watering them; and watching as stems, flowers and leaves started to grow.
Heard said watching that process is important for special education students.
"They can see they started something from a seed or a little sapling and it has turned into something you can eat," she said. "Or something pretty or some flowers."
In White's class, the students water the plants, check the pH level in the soil, and cut away wilting and less healthy plants. White said they've become good at identifying when the plants need to be trimmed and when they're ready to be harvested. 
"They'll peek. 'Ms. White, we need more water.' 'Ms. White, this one looks dead,' " White said. "So they're learning."
The project is a practical way to learn academic subjects like food science and the life cycles of plants, but it also teaches the kids routines, vocational skills and how to make healthy eating choices, White said.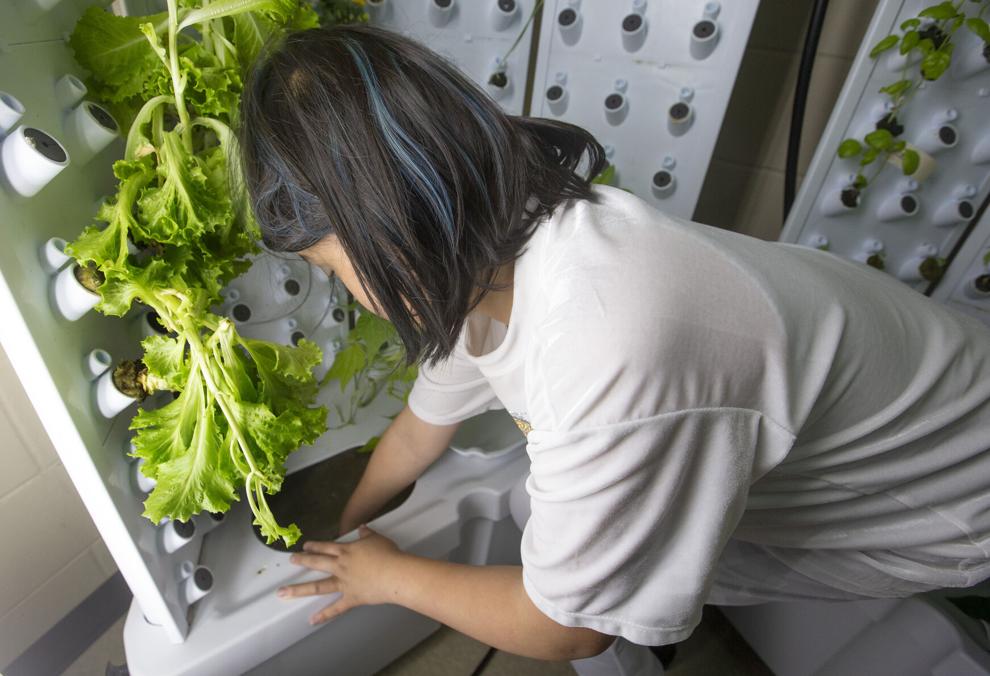 Caring for the plants over time builds their confidence. In White's class, ninth grader Vanessa Mai took some of the basil cuttings home to use in the pizza she baked with her family, and the students all grew flowers to take to their moms for Mother's Day.
In Heard's class, students took some of their produce to the Summer's Corner farmers market, giving them a basic idea of how to turn a project like a garden into a business.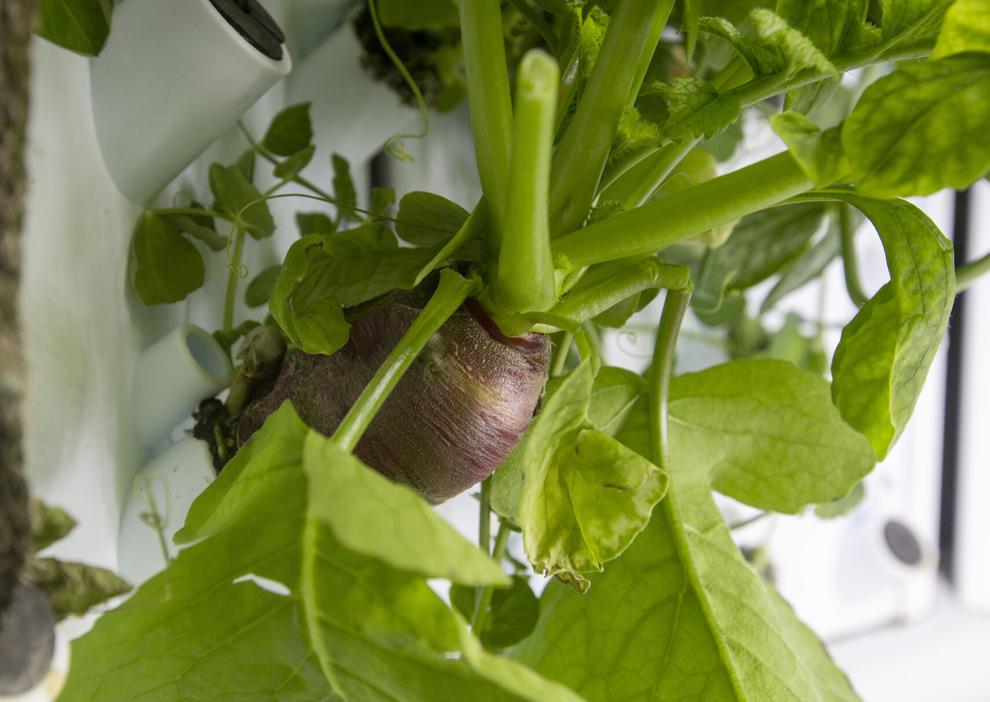 Heard said the gardens have brought several of the kids out of their shells. Some of them wouldn't even touch dirt when they began gardening. Now they look forward to it.
"I'm very proud of them," Heard said. "They jumped in. I have a lot of fearful kids who don't like change, and this was really new for them."
She and her assistant teacher, Debbie Vincent, hope to invite the students and their families back to harvest the rest of the produce in June, though she knows it's unlikely every student will be able to come after school lets out for the summer. Next year, she wants to plan all her lessons around gardens so the students will have a practical application for everything they learn.
At Ashley Ridge, White hopes to add an outdoor garden to go with the hydroponic one, like Heard has done.
Hayes hopes to expand the project to more of DD2's schools if it continues to be successful.
"We've had really positive feedback from all grade levels so far," he said. "So the hope is that, long term, we can find more grants or more donors who would be willing to sponsor a unit because we would love to put one in every school."