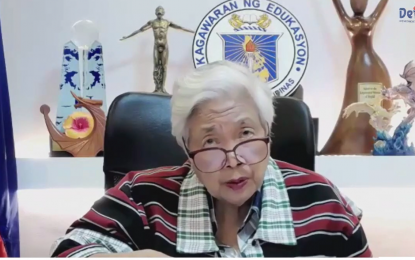 MANILA – The Department of Education (DepEd) maintained on Tuesday that the quality of learning delivery among the Filipino youth should not be solely measured based on television segments or talk shows, following the viral historical trivia game in a TV show where several teens had a hard time answering.
In a virtual press briefing, DepEd Secretary Leonor Briones said many have found the game amusing, but the entire quality of education should not be concluded based on that single episode.
"I quite agree that perhaps these contests are indicators, but these are also entertainment shows where you laugh and find answers funny because you find the answers ignorant… To draw a conclusion from a talk show is very dangerous," Briones said.
DepEd Assistant secretary Annalyn Sevilla, meanwhile, noted that although memorization is important in learning styles, the academe should focus more on the "why's and how's approach."
"Sana 'wag nating sukatin ang talino ng kabataan ngayon sa (We should not measure today's youth intelligence) based on trivia questions kasi (because) we are using the 21st century skills. Ang 21st century skills ay critical thinking, communication, collaboration, and creativity… Hindi na po kami sa ano, sino, at kailan, ang mga tanong po ng mga guro ngayon, paano, ipaliwanag, at i-perform (We are no longer using what, who, when, instead teachers now ask how, explain, perform)," she said.
Sevilla suggested that TV programs stay away from conventional questions and instead craft more probing questions that would elicit more informative answers.
"Doon sa GomBurZa, bakit sila nagarote? Bakit sila naging bayani? 'Yung mga ganyang pagtuturo po ang ginagawa natin (For the GomBurZa question, why were they beaten up? Why did they become heroes? Those kinds of questions are being used in our teaching). We really have to level up the questions," she said.
Likewise, Undersecretary Diosdado San Antonio said eventualities like the one portrayed in the reality show do not represent the country's education system, and that their department should not be solely blamed.
"Yun bang mga hindi pumapasa, sila ang indicator ng quality, parang unfair naman kung talagang DepEd lang ang magpapaliwanag sa mga ganitong pangyayari. Talagang agree po ako sa sinabi ni maám (Briones) na, tama tanungin kami pero dapat kung bukas naman ang ating kaisipan, mag-isip tayo na ýun na nga hindi lahat ng may mali sa ating pamayanan, sa ating society ay kasalanan ng DepEd," he said.
(Are those failing our quality indicators? It seems unfair if only DepEd will be explaining such eventualities. I really agree with ma'am (Briones) that we are to be inquired upon, but we should be open-minded, let's think that not all failures in our society should be blamed on the DepEd.)
Briones assured the public they are doing their best in the remaining months of the school year to "catch up" or improve the curriculum and the education system in the country.
Earlier, a historical trivia game from a TV program went viral after teen contestants gave wrong answers to several questions.
The two contestants said the acronym for the names of martyred Filipino priests Mariano Gomez, José Burgos, and Jacinto Zamora was MaJoHa, instead of GomBurZa; and that the longest bridge spanning a body of water in the Philippines which links Samar and Leyte is "SLEX" (standing for the South Luzon Expressway), instead of the San Juanico Bridge. (PNA)